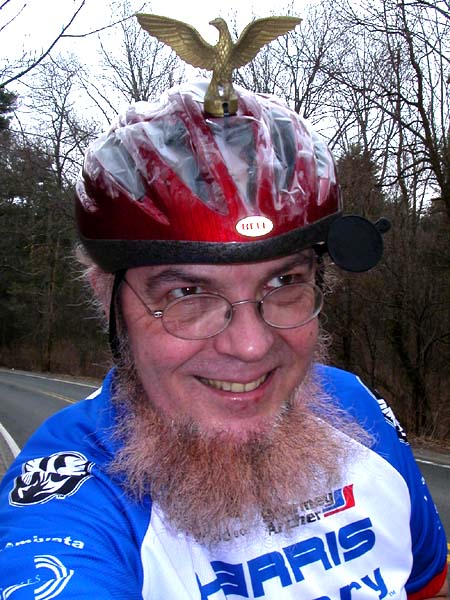 So this is the opportunity for all of us to mumble platitudes to the effect of,
"Sheldon Brown isn't dead as long as he lives in the hearts and legs of cyclists anywhere!"
or
"Sheldon Brown isn't dead as long as friction shifters are still sold on new bikes!"
or
"Sheldon Brown isn't dead as long as helmet mirrors save your ass from the overloaded dump truck coming up the shoulder!"


But
Sheldon Brown
is
dead.
I never met Sheldon myself. The closest I got was a few years ago when I stopped by his shop, Harris Cyclery, in the Boston suburbs. I was waiting for a prescription to get filled for my infant daughter at a nearby pharmacy, and figured I'd see if I could see the legend. Unfortunately he'd just stepped out, and now I don't suppose our paths will cross again.
Sheldon became a crazy, beloved uncle to me through
his website
. It was probably four years ago that I first stumbled upon it when I was building up my first singlespeed mountain bike. (I'm now on my fourth SS frame, but that's another story.) I devoured Sheldon's site, learning all I could about (in no particular order) singlespeeds, fixed gears, eccentric bottom brackets, hub brakes, disc brakes, caliper brakes, Brooks saddles, internal hub gears, tandems, tandem touring, tandem drivetrains, and spoke theory. The fate of
Sheldon's website
is unknown, so check it out now, while you still can.
The only thing that Sheldon seemed to love more than cycling was introducing that passion to others.
Thank you, Sheldon.
You Can Count me as One of Your Posse.